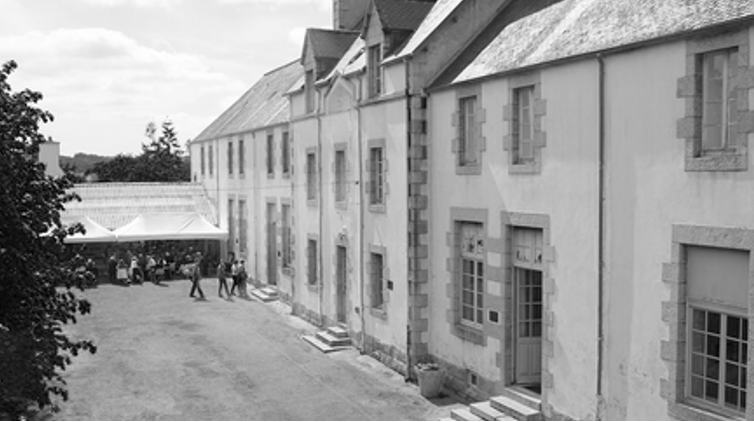 Le génie de la littérature : Denis Grozdanovitch et Hubert Haddad
09.02.2017
Summer of 13 Sundays
« Le Génie de la bêtise », « Premières neiges sur Pondichéry »
Meeting 2 September at 15:00

"The Genius of Stupidity"

It is  a scholarly wander, droll, philosophical and eclectic about a country filled with stupidity.
Denis Grozdanovitch, a zealous disciple of Flaubert, proposes a careful cartography where, from Moliere to Beckett, from Goldoni to Marivaux or Sartre, fools, imbeciles and idiots never cease to comment on the "intelligent" ones, who are often as stupid as they first ones.
Here we are talking about the innocents of villages, Talmudic quarrels, metaphysical nonsense. And of the theorem of Gödel, of Mr. Teste, of Pierre Dac, of rediculous phantoms, of football robots and of  particularly distressing "experts".
The morality of Grozdanovich? A genius with an idiotic appearance sleeps in each of us and it is enough that fortune - assisted by a certain kind of personal will - helps us to free this idiot from his assumed inferiority so that he turns into an sorcerer.
This book is a true jewel of erudition and charm.
We thought about it with a smile.
We really enjoyed it.
Denis Grozdanovitch is a former champion of tennis, squash and short palm, who later switched to  philosophy, chess and literature. His works-from are the Little Treatise of Casualty to Dreamers and Swimmers-from The Accuracy of Dreams to the Discreet Power of Chance-are breviaries of wisdom and fun. 
First snow in Pondicherry

Winner of the Prix Cercle Chapel 2017
Selection of the Prix JOSEPH KESSEL 2017

Violinist virtuoso, klezmer music enthusiast as well as classical repertoire, Hohea Meintzel accepts the invitation to a festival of carnatic music in Chennai, in South India. Wounded by an attack, he inetended to  never return to Jerusalem.

Magnetized by circumstances, after a bumpy ride from Pondicherry to the coast of Malabar, passing by a mountain ranch on the borders of Kerala, he finds refuge in Fort Cochin, one stormy evening, Ancient blue synagogue. Because the great prayer demands a minyan, a quorum of ten faithful, those who are still there plead Hochéa to be theirs. With the promise to tell him the ancestral history of the Jews of Kochi ...

Carried by the figures of Samra, his adopts a daughter, and Mutuswami, the young musician who guides and accompanies him, Hochéa relies on a chain of chance, even if he faces an obscure part of his life - Intuition of another world, another history, another exile.
 
In a romantic tour de force, First Snow on Pondicherry immerses us in an extreme sensory universe, exuberant, clashing, heading through the prism of a man who carries in him all the music of the world, and welcomes the inexorable beauty of All its senses.

"The whole night was full, filled with stars split by sails of mist. And the final bouquet, after the last salvos, fell into thin snow on the sea. "

Hubert Haddad, the author of a considerable work, implicates us magnificently in his commitment as an intellectual and an artist, with titles such as Palestine (Renaudot Poche Prize, Five Francophone Continent Awards) (Louis Guilloux Award, SGDL Grand Prize for Literature for the entire work), or very recently Premières neiges sur Pondichéry.